Upgrade to energy-efficient lighting. Lower your costs.
Considering a lighting upgrade? You could get a rebate of up to half (50%) of the total project cost based on your lighting use during peak periods. That's when demand for electricity is high.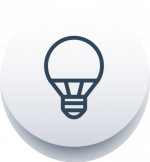 Savings on upgrade expenses, as well as lighting costs. LEDs use much less energy than other light bulbs.
Lighting options that work for your needs. LED technology now offers a variety of lighting solutions.
Reduced maintenance. Since LEDs last much longer than traditional bulbs, your team will spend less time changing bulbs and more time being productive!
Take advantage of incentives on energy-efficient lighting* products for your business before they are gone!
Copyright ©2022 Energy Smart SC. All Rights Reserved