Want an easy way for your business or organization to participate in renewable, sustainable energy? Renewable Energy Credits (RECs) provide a low-cost alternative to installing solar at your location.
Commercial and Industrial cooperative members who are interested in RECs, but don't know where to start, can work with their local electric cooperative. The co-op will acquire and retire RECs on your behalf.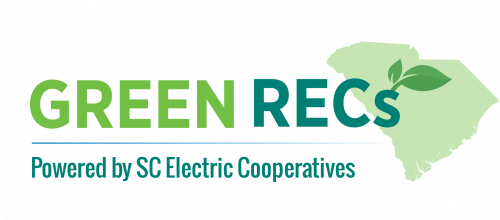 RECs connect your organization to electricity generated by renewable sources, such as solar, wind, hydropower and landfill gas. You'll also be reducing your carbon footprint.
This program is designed for C&I accounts with an annual demand of at least 500 kilowatts (kW).
•    One REC represents 1 megawatt hour (MWh), or 1,000 kilowatt hours (kWh) of renewable energy.
•    You choose what percentage of your yearly energy use you'd like to offset with electricity produced by renewable generation.
•    You can even select your desired generation source(s) and the location where the power is generated.
By participating, you'll be helping support a cleaner future.
If your local cooperative is participating (see drop-down list) and you need more information, please fill out this form. Someone will contact you.
If you're ready to complete the agreement, click here.
Copyright ©2022 Energy Smart SC. All Rights Reserved