On cold winter mornings and hot summer afternoons, we can Beat the Peak demand for electricity—together.
Sign up below, and we'll let you know when electricity demand is at its highest. If we all cut back on energy use a little, we can make a big difference—together.
When your electric cooperative identifies a "peak" day, you'll receive: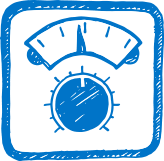 All you do is turn off unnecessary lights and think twice before using major appliances, such as dishwashers, washing machines, and clothes dryers. And adjust your home's thermostat to use a little less heat or air conditioning during the Beat the Peak hours.
If we work together to Beat the Peak, we can control some of the costs that affect your electric bill!